The sports betting market is for entertainment purposes only and cannot be used for gambling. A safe sports betting company can be found easily, but you need to choose the best one to hire their services.

Bookiemarket offers its users various plans to create the bookmaker. The simplest plan is free and you can use it to test the site.
Different Plans Of BookieMarket
However, if you want to invest for the long term, you must update your plan. More details on these plans are discussed below:
Basic Plan
However, your players cannot bet on the NBA, baseball or college football with this package.
The basic plan is free. For ten players or less, you can access Lines, Hold'em Poker, Slots, Minimal Coverage, Singles Only, NFL, Canadian Soccer, Soccer Betting, and a variety of games, other sports, including various soccer leagues.
Premium Package
It is a good package for anyone looking to offer sports betting to their friends and family.
For twelve players or less, you can get just about anything, including just about any sports betting option for $ 149 per month.
Additionally, you also have access to all casino games such as slots, video poker, blackjack, and more. All basketball leagues are also included in this plan.
This does not include the agent system. In addition to all the features of the free plan, you also get add-ons like an edit table, a racebook for US and UK tracks.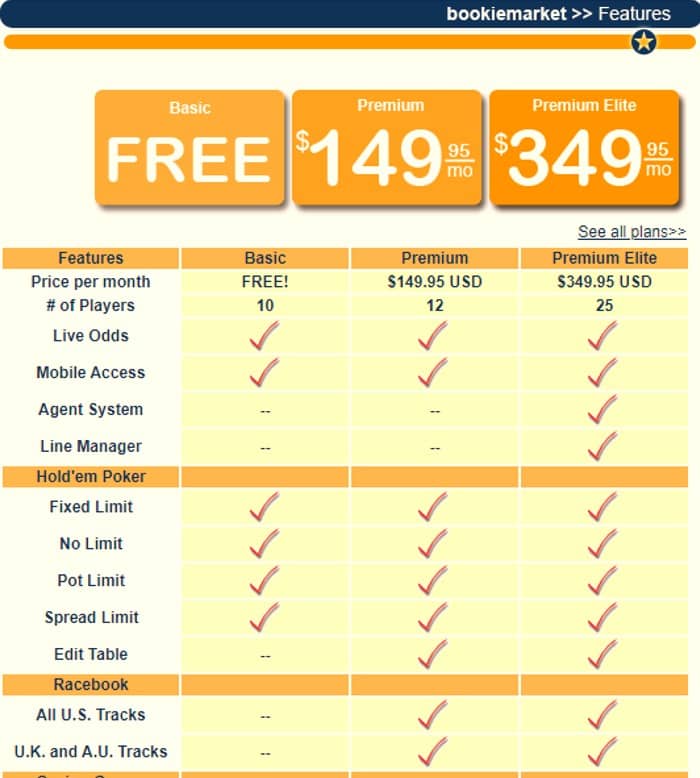 Premium Elite Package
The biggest advantage of this plan is that it is fully featured.
Some of the best features of this plan are mobile access, live odds, agent system, access to all sports, different reports, types of plans, lines of play, etc.
The Premium Elite plan costs $ 349.95 per month. 25 players or less can access the bookmaker.
Rotation Plan
While the Premium Elite plan costs $ 349.95 per month up to age 25, the Kingpin plan costs $ 975 per month for up to 125 players.
Therefore, based on per capita salary calculations, this plan is much cheaper than the Elite Premium plan.
There is only a slight difference between the Premium Elite plan and the Kingpin plan. This is the cost of the plans and the number of players allowed.